PAOLO BISI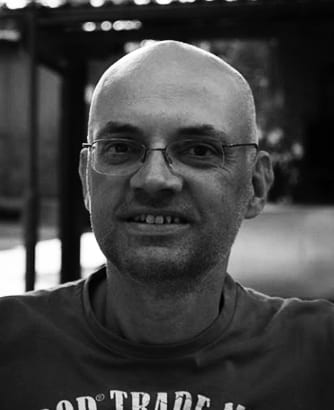 Paolo Bisi was born in Piacenza on 27 September 1964.
In 1981 he won the National Pierlambicchi Competition in Prato for Young Comic Book Authors.
He graduated in 1983 from the Parma Institute of Art in the section " Advertising graphics ".
From 1987 to 1993 he worked in the advertising field as a Free-Lance for several Milanese agencies, creating above all Storyboards and Lay-outs.
In that period he also made illustrations for children's publishing.
In comics, its first publication was in 1992, on the DARK magazine, Edizioni Granata Press, with THE GHOST HOUSE, story of Marcello Toninelli.
Then Bisi drew The Graphic Novel REQUIEM, first published by Intrepido and then by Liberty (1995), on texts by Ade Capone. (reissued by Editoriale Cosmo in 2015).
He then collaborated with the Star Comics Editions, on the magazine LAZARUS LEDD, with the stories of Ade Capone: THE BURNING CITY (1994) e THE TREE OF JOSHUA (1995).
In the summer of 1995, Paolo Bisi started working for Sergio Bonelli Editore on the magazine MISTER NO, creating six albums, based on scripts by: Del Freo (BEHIND THE MASK), Marzorati (HELL'S ANGELS, THE ATTACK, THE INTRIGUES OF POWER), Masiero (HUNTED!) and Mignacco (THE MAN OF THE FUTURE).
In 2005 he then moved to the ZAGOR magazine with history THE TREASURE OF DIGGING BILL, on the Almanac of Adventure, written by Luigi Mignacco. Subsequently he drew and inked eight comics on texts by Diego Cajelli (THE WOLVES OF THE RIVER), Mauro Boselli (SERTAO), Samuel Marolla (HELLGATE BURNS), and the last story of Ade Capone (THE RETURN OF THE BLACK WOLVES).
In December 2017 he worked for the Color Zagor on the story of Samuel Marolla: SPECTRUMS FOR DIGGING BILL.
In January 2019 Bisi made a short story of Adriano Barone (THE BEAST FROM THE PAST) for the Maxi Zagor n ° 35 "The Darkwood Tales".
He currently works for a story in two albums in the regular series, always based on a script by Samuel Marolla.
He also collaborated with the Glénat editions for the French market, with the collective volume DESSINS pour le CLIMAT (2005), and with the MANSON trilogy (2008/2010), story of Cédric Rassat.

He creates a steampunk themed portfolio and an artbook entitled "IMAGINE" with his unpublished works.